Some of the real workhorses in the bags of avid disc golfers are their beat-up mid-range discs, though the mid-range doesn't often get the glory and hype of a distance driver.  They are like the blue-collared workers that get the job done over and over again, but for whatever reason, don't get the recognition they deserve.  The new LITHIUM mid-range disc by Element Discs is a new disc that begs for constant abuse and a permanent spot in your bag. It will get the job done, over and over again, becoming a slave to your throwing style as you approach the basket.
I took the Lithium out for a round on a 9-hole course and used it exclusively for every drive, every up-shot, and every putt. I wanted to put this disc to the test. The course I chose was a little park called Salt Hollow, and it was perfect for testing a mid-range, since
all of the holes are between 150 and 220 feet.
First of all, I threw a 170g disc in Terra Firma Blend plastic, and the feel of the disc is very comfortable. There are absolutely no sharp edges. Both the outer edge of the rim and inside the disc, where the rim meets the plate, are smooth and comfortable on the fingers. It releases with great fluidity, sliding from the fingers with ease.  This disc can fly as straight as an arrow when thrown flat and low, landing right on target within that 100-200 foot range.
When thrown with power, it pulls to the understable side. When thrown higher, it has a gentle fade. You can release with more power if you throw with a hyzer release, and the disc will keep that overstable hyzer line. All in all, the Lithium flies exactly as you'd hope– the player is in complete control of that flight. Nothing about the disc's characteristics get in the way. I'd wouldn't hesitate to rate this mid-range right in there with my beloved Buzzz.
The Terra Firma Blend plastic is a bit softer, and since I also did some putting with the Lithium, the chains did leave scuff marks on the plastic. I could see this plastic losing the battle against hard obstacles (pavement, rocks, etc.), but it sure feels nice in the hand.  Though the original disc stamp says "Putt & Approach" I really wouldn't call this disc a putter. It was accurate when thrown with some zip, but it doesn't have the glide you generally want with a short-range, finesse putter. It's too much of a dinner plate profile for putting, unless you're fighting wind like you would with a Zone putter.
I handed the Lithium to my 11-year-old daughter who also gave it a couple rips, and it was perfect for her arm speed, flying further than some of the light-weight drivers she's been using. It is a very beginner-friendly disc, and not a bad starting place for those getting a feel for throwing disc golf discs.  I'd highly recommend it to new players, where mid-range discs are often a great primer for technique.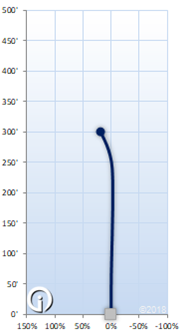 Lithium Dimensions:
Diameter: 21.9 cm
Height: 1.5 cm
Rim Depth: 1.3 cm
Rim Width: 1.5 cm
Max Weight: 180.00 g
Additional Information:
Speed: 4.0
Glide: 3.0
Turn: 0.0
Fade: 1.0
Primary Use: Mid Range
Stability: Stable
Recommended Skill Level: Everyone
Plastic grade(s): Midgrade