I got really excited when I got this email newsletter from Vibram.
Back by popular demand
Our performance-driven discs are back in stock! Vibram discs are made with high quality rubber, which offers better grip, scuff resistance, and durability than traditional plastic discs. Every Vibram disc features a one-of-a-kind design using the color pattern you see below.
Lace – Distance Driver

A fast and stable long range driver. High-grip technology helps maintain grip and accuracy, even in wet conditions.
Arch – Fairway Driver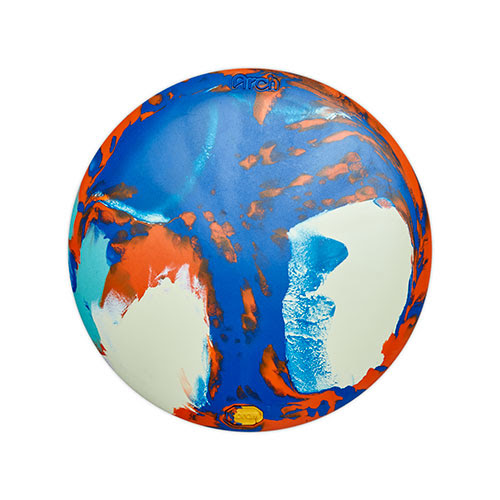 Fast and smooth, with easy handling. Ideal for short drives, tight tricks and approaches.
Ibex – Mid-Range
A stable disc that throws reliably smooth and straight. Perfect for everyone from seasoned throwers to beginners looking to throw it straight.
Ridge – Putter
Stable, durable and dependable putt and approach disc. The Ridge flies true and consistent to the target with minimal fade.
When you throw rubber, you throw the best.
While their disc golf discs are back in stock, for now, they are only sold directly by Vibram and at the exorbitantly high price of $40 per disc. The worst thing about buying off of their website is that you can't even choose the exact picture of the disc you will be getting. The unique designs of Vibram discs were one of the things that made their line so much fun. Vibram did this same thing about a year ago. A temporary release of some of their discs available only directly through their website.
For now, it looks like they are only doing limited runs of the most popular discs where they can make a quick and immediate profit. Perhaps one day they will get back into disc golf as a major distributor, but for now it looks like they are going with the stay rare and expensive approach.
The Lace and unLace were two of my favorite distance drivers of all time. The unLace was the first disc I was able to ever throw for more than 400 feet of distance. The Ridge was my putter of choice for some time and I still use a super soft Summit on hills and in precarious situations where you want to make sure your discs don't skip and roll away.
I love Vibram, but have since found replacements for the molds I regularily threw. It's exciting to see them live on, but for me, it's not worth $40 per disc.